Hospital Floor Star Pattern DXLD-1501
Product Detail
Product Tags
Star pattern flooring is a good choice for hospital or Gym flooring needs. 100% PVC flooring is easy to install and maintain, superior in anti-wear and anti-static to be dirty, easy to clean and excellent decorative appearance, environment protect. The Vinyl Flooring behave good in resist impact, anti-skidding and shock absorption, which can effectively protect the security of the athlete. It is mostly used for hospital, dance room, Gym, Stadium, Fitness Center, kindergartens and other places. 
1,Colorful design
2,Anti-slip and shock absorption ,excellent cushion protection.
3,Using 100% new material, the products can be recycled .
4,Unique antibacterial treatment , Anti-bacterial and anti enzyme.
5,Adopt glass-fiber layer structure , stabilize the size without distortion
| | | | | |
| --- | --- | --- | --- | --- |
| Product performance | Testing standard | DXflor | Gerflor | Tarket |
| Total Weight | EN430 | 2950g/㎡ | 2750g/㎡ | 3000g/㎡ |
| Total Thickness | EN428 | 2.0mm | 2.0mm | 2.0mm |
| Sheet Width | EN426 | 1.8m | 2m | 2m |
| Sheet Length | EN426 | 10-20m | 20m | 23m |
| Wear Group | EN660 | T | T | T |
| Residual indentation | EN433 | 0.025mm | About 0.04mm | About 0.03mm |
| Dimensional stability | EN434 | ≤0.40% | ≤0.40% (rolls) | ≤0.40% (rolls) |
| Resistance to chemicals | EN423 | Good | Good | Good |
| Reaction to fire | EN13501-1 | Bfl-s1 | Bfl-s1 | Bfl-s1 |
| Electircal behaviour | EN1815 | ≤2KV | <2KV | <2KV |
| Impact sound reduction | ENISO717/2△Lw | About +4dB |   |   |
| Color fastness to light | ENISO105-B02 | ≥6 | ≥6 | ≥6 |
| Mold resistance | DIN ENISO846-A/C | No bacteria | No bacteria | No bacteria |
| Slip resistance | DIN 51130 | R9 | R9 | R9 |
| Hazardous Substance Testing | GB 18586-2001 | Pass | Pass |   |
| Surface treatment |   | PUR | PUR | PUR |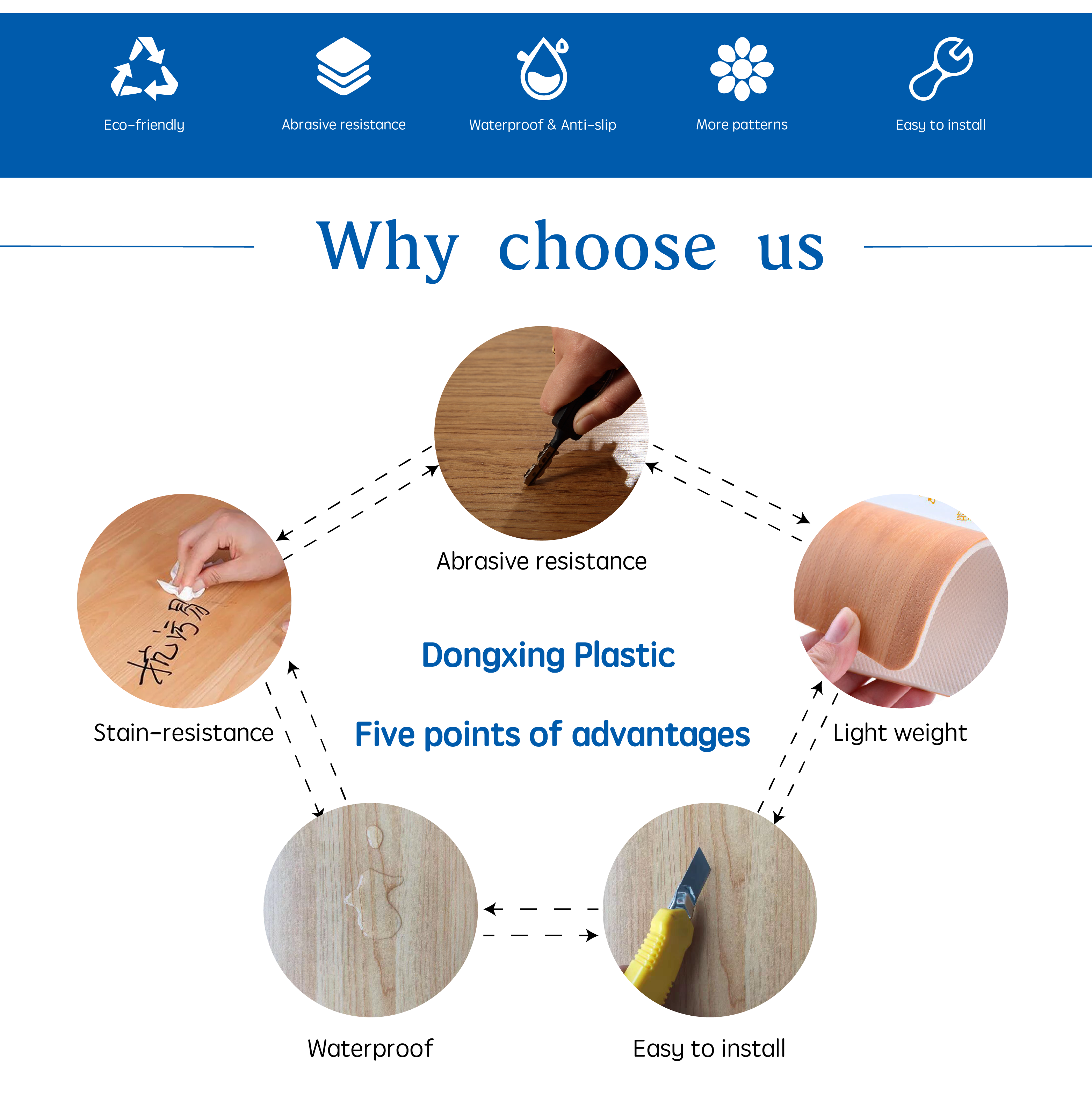 Eco-friendly: PVC resin and natural limestone power are the major raw material. excluding radioactive elements.
Wear resistant: Flooing surface treated with PUR Coating.
Slip resistant: Special anti slip treatment made on wear layer, to protect the kids % aged safety and not slip down.
Fire resistant: Reaction to fire classfication is Bf1 – s1 ,second only to stone material.
Anti-bacterial: Most of germ & bacterium cant survive
Easy installation: By wire rod.
Easy maintanence: Cleaning the dirt simply by mop
Widly used: Apartment, hotel, school, hospital, office, shopping mall, ect..
---
---
Write your message here and send it to us